Seven Sisters Development Assistance
Blogs
I am Mrigakshi working in SeSTA from the last 3.5 years. While I was doing my graduation with English honours, from that time onwards I wanted to learn something which is more practical in nature and which can help me to provide some service of mine to the society (rather than just reading literature – no offense to anyone). Hence, I opted for Masters in Social Work from Tezpur University.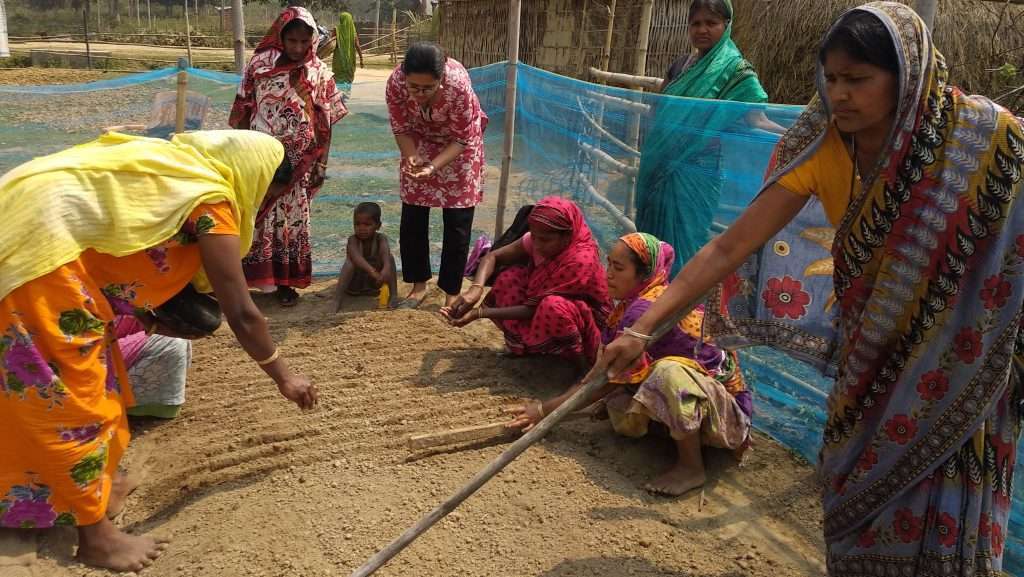 The two-year course has really helped me to understand the different principles, approaches, ethics, perspectives and the emergence and need of social work rather than just believing social work as a
charitable work. After passing my master degree I have joined Seven Sisters Development Assistance (SeSTA) as an Executive Trainee (ET) in the month of October, 2017 and I was posted in Pakabetbari block of Barpeta district. After joining I did my 21 days of village study in the same block itself. Being born and brought up among the hustle bustle of a city life (Guwahati), staying in a village was something was very new and exciting for me. In those 21 days I really got the opportunity to observe the rural life of the people from a very closer lens. I could gather knowledge and build my understanding around different dynamics within a village, their customs and traditions, their way of living, different sources of livelihood options which I had very less idea about, inter and intra relations, gender relations, power hierarchy and also about different community institutions and their roles. It was a very raw and meaningful experience for me to see, live and experience the lives of the community people by being with them. After completing my village study I was engaged in exploring different villages, creating awareness about Mahila Kishan Shashaktikaran Pariyojana (MKSP) project among Self Help Group (SHG) members, promoting System of Rice Intensification (SRI) and also about the usage of organic manure. As it was my first time in promoting SRI, I really struggled to convince the baideus/didis to adopt this new practice but I found immense joy when they adopted the practice and yielded better results than the traditional system of farming. After completing about 6 months in Pakabetbari block, than I was transferred to Kushdhowa block of Goalpara district. It was a completely different terrain, different people, different language, customs, traditions and everything again was very new for me to explore and learn. In Kushdhowa block, I spent about 2 years gaining vivid experiences; bitter as well as sweet each contributing in its own way to my learnings. While I was working in Kushdhowa block, I could understand the importance of building a development perspective around the area rather than working in a very transactional mode. 
Being a Development Professional, it is not about meeting the targets but more than targets it is about bringing a change in the lives of the baideus/didis. To bring this kind of change, enormous efforts are required from a professional and the journey is not a bed of roses rather it is a road with a lot of thorns. Unless one walks through the thorns, it is hard to get the roses. In Kushdhowa block, I was engaged in promoting and strengthening Producer Groups (PG) among women farmers, capacity building of the baideus/didis as well as the community cadres, providing handholding support to the baideus, promoting livelihood interventions like System of Rice Intensification (SRI), System of Crop Intensification (SCI), Organic Manure, Integrated Pest & Disease Management (IPDM), Horticulture, Mushroom cultivation, scientific goat rearing and backyard poultry. During this period of time, the bond that I have developed with the baideus/didis is something that I would always treasure in my life. From both ways (me and the baideus), there was flow of different emotions – at times sharing our moments of happiness, joy, our successes and at times being angry, sharing frustrations, sharing dilemmas, baideus sharing their journey of struggle but together me and the baideus moving ahead towards the shared goal of empowering the community. Patience and perseverance are two key words which are very much required for a Development Professional. The "Happy Picture of the Community" that we dream about might not be seen in a very shorter period but might take years and years to get through it but our efforts and interventions should not stop by temporary fall down/ failures. Rather these setbacks should be used as stepping stones towards success. From the month of May, 2020, I am working in the Human Resource Management Team of SeSTA as an Executive. Here my engagement is not directly with the community but with the people who are working for the community. Working here I get the opportunity to meet so many people- interacting with them, understanding their areas of strength, their potentials, areas where they need support for improvement and at the same time exploring, understanding and providing them the required support to groom them as a Development Professional. It is a very big job at hand because shaping young minds is something about shaping our future. More the roots catch strong hold, more the tree will grow, flourish and sustain in the longer run. In the process, I am also learning, growing and trying to work towards the betterment of the society at large.